It may not be dead, but the 3D TV market definitely looks to be sliding toward oblivion as consumers increasingly decide they're more interested in how to get online content as opposed to watching it in 3D.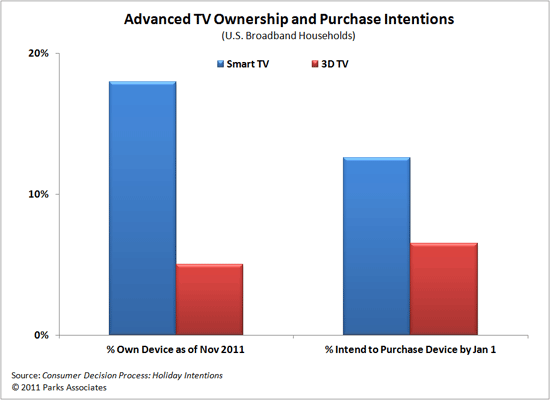 Click here to zoom in on this chart.
New research from Parks Associates said that 20 percent of American households plan to buy a flat-panel TV by the close of the year, making it the most popular CE device of the season. And, said the research company, nearly 75 percent saying they'll be getting a feature rich TV, with smart capabilities outshining 3D by a 2-1 margin.
The push, said VP and principal analyst Kurt Scherf, has come from mainstream buyers, making a shift away from early adopters and buyers from high-income groups.
"The combination of a maturing product ecosystem with great holiday deals is putting smart TVs within the reach of the American middle class," he said.
Some 20 percent of middle-class households--those with annual incomes of $50,000 to $75,000--plan to buy a smart TV this holiday season. Twelve percent of HHs with income over $75,000 also intend to buy connected TVs.
Those numbers spell more trouble for pay-TV operators, said Scherf, as this season's smart TV buyers may turn into cord cutters next year.
"Smart TVs expand a household's available content choices without raising content costs," Scherf said. "Consumers pay a premium for the device now, but our research indicates these purchases could be part of a long-term plan for many budget-conscious households to reduce their overall expenditures."
For more:
- see this release
Related articles:
Report: Apple pushing ahead with TV plans, talks with media execs
Connected TVs to reach 551 million by 2016
Apple TV top OTT device in a market expected to double in 2012
Connected Apple TV could earn $6 billion for company by 2014
Study: Internet TV to reach 60% of HH by 2014